Get Flash to see this player.
Description
Omnisphere again. Short ambient tune, that I thought it had a sort of Japanese feel, so It's named it after a park in Kobe. My son's idea - he's out in Japan at the moment, living near to Kobe. So when we go to visit him in July, I shall take an early morning stroll in Wakamatsu Park, with my iPod, and see how close I was!
It's hurt me to do this. In fact, most of it was made standing up. My back is injured at the moment and sitting down is rather painful. :(
Thanks for stopping by!
Well I've now been there! Not really very zen-like, as I had thought it might be, more of a concrete square in the midst of a shopping mall. But I did listen to the tune, standing beneath a lifesized statue of "Tetsujin", (Ironman 28; a famous Japanese manga superhero, 18 meters high), which is situated at one side of the square. This was the area of Kobe hardest hit by the earthquake which destroyed the city in 1995, and the statue was erected to commemorate this. Very Japanese and very cool!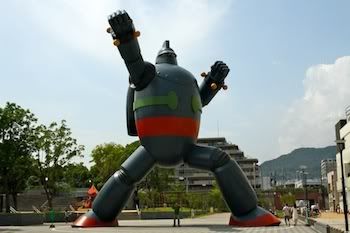 Here I am in Wakamatsu Park, standing beneath Tetsujin Go 28, listening to Wakamatsu Park on my iPod!